Meet the team!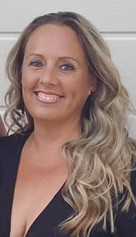 Melissa
Psychosocial Recovery Coach

Melissa has over 20 years' experience supporting adults and young people with a lived experience of mental health challenges, along with other complex needs. With a career spent providing direct support to participants, and in more recent years leading Mental Health Support Services on the Sunshine Coast, Melissa is very familiar with the supports available in our region.
Through Psychosocial Recovery Coaching or Support Coordination she can assist customers to understand their plan, implement supports and live their best life. Melissa is very friendly, supportive, reliable and is able to connect with people easily, customers and stakeholders alike. This truly helps our customers to work with someone that can assist them to understand their choices, find opportunities and reach their goals.
Melissa is excited to see her participants maximise their potential and has a demonstrated ability to assist others to increase their supports, gain independence, build capacity and engage in the community.
Professional qualifications include a Degree in Social Science (Community Work), Cert IV in Mental Health, Cert IV in Drug and Alcohol, First Aid / CPR and a positive Worker Screening Clearance. Over many years Melissa has completed a range of trainings covering Mental Health, Alcohol and Other Drugs, Suicide ASSIST, Recovery Frameworks, Brief interventions and Case Management, DBT skills - to highlight just a few!



​
​
---
Why choose us?
You will receive specialist support from tertiary qualified and experienced staff member​.
We have local knowledge of supports and services to support you and often strong relationships with staff in these services.
Our commitment is to provide a reliable service and treat you with dignity and respect.
We are also sensitive to your cultural, religious and social needs.
You will always receive sufficient information to ensure you can make informed choices​
Your recovery journey is important to us!